I have received hundreds of emails from people in several countries who report an increase in, or initial onset of, electrical sensitivity symptoms when high-speed fiber optic internet is installed in their neighborhood. How could this be? Isn't wired fiber optic internet, which uses light to transmit large amounts of data at incredibly high speeds, supposed to be safer and healthier for everyone?
The issue is that fiber optic internet service does not only use light to transmit data. The high-speed fiber optic data must be converted to electrical signals before the data can be transmitted to the home on the existing copper cable or phone line DSL. Those electrical signals, which carry our internet data, are not inherently problematic because they are in a very narrow frequency range and don't typically radiate from the cable or phone lines.
Fiber Optics can add EMI to our Homes
There can be a significant problem with the high-speed fiber optic converters out at the street (or in the home with some newer fiber systems) that create these electrical data signals. This is because the converters are not designed with low-EMI emissions in mind. Thus, their power supplies and operation can generate high amounts of wide-spectrum EMI (electromagnetic interference). This inadvertent EMI then piggybacks on the copper cable and phone lines into our homes where it can radiate from every copper wire. This EMI from the fiber optic infrastructure is a primary reason why electrical sensitivity is increasing when high-speed internet is installed in our communities.
Fortunately, there are solutions to this issue. Here are a few:
1.)  If electrical sensitivity symptoms increase all of a sudden with a new internet provider (for example, switching from Comcast Xfinity to AT&T), go back to your original provider right away. There is likely an EMI issue with their fiber optic converters that is impacting your home. I have seen several people get better by switching back to their original internet providers (this is with all wireless disabled).
2.)  Continue internet service with a non-fiber optic provider as long as possible. Many communities have multiple internet service companies to choose from. Consider this EMI issue when choosing your service.
3.)  Select the lowest bandwidth internet package available. This may reduce the EMI transmitted into your home and reduce the EMI created from the modem/router within your home. In most areas, even the most basic package is much faster than you will need to stream movies on Netflix or Amazon. Choose a package at or below 100 Mbps and stay away from 1 or 10 Gbps packages, which will likely add more EMI to your home.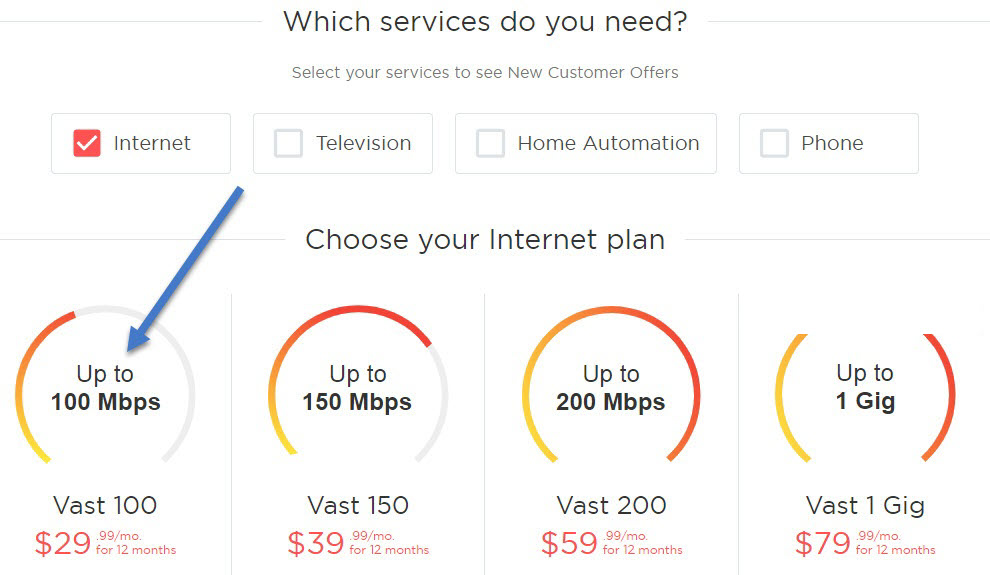 4.)  Disconnect the existing cable and telephone lines in your home from the cable provider. This will prevent EMI from the fiber optic infrastructure from conducting along the cable and telephone lines in your walls. You could still have a data connection brought to your residence, but have it in just one area of your home. You will be able to control the EMF exposures in your home more easily if every copper wire is not radiating EMI.
5.)  Consider filtering the EMI before it comes into your home. Genisco Filters is a company that specializes in this issue. Send me a message for more information on EMI filtering options.
6.)  Use your own low-bandwidth cable modem. The two primary sources of EMI from high-speed internet service are the fiber optic converters at the street and the cable modem within your home. The cable modem can also add EMI to the electrical wiring of your home, so you want this to be clean as possible. Unfortunately, the modem provided by your internet provider will often produce high amounts of EMI, along with WiFi. The non-WiFi modems that seem to work best for electrically sensitive families include the Arris models TM822R, SB6141, SB6183 and SB6190.
7.)  If you experience increased electrical sensitivity at your computer after high-speed fiber optics are installed in your neighborhood, consider installing your own fiber optic system between your cable modem and computer. This idea may seem counterintuitive, but it will create an EMI barrier between your computer and your internet provider's system. I will outline how you can do this in an upcoming article.
8.)  Consider that the high-speed fiber optic networks being installed in our communities will be used as the backbone for 5G wireless installations. Every cellular antenna on a light or utility pole needs a fiber connection to operate. As award-winning science journalist Blake Levitt points out in this article, fiber optic systems can be used as a Trojan horse for 5G installations in our communities. Thus, living in an area without fiber infrastructure can both reduce the EMI coming into your home and prevent you from having a cellular antenna like these installed directly outside your home. I will discuss this aspect of small cellular antenna installations in a future article.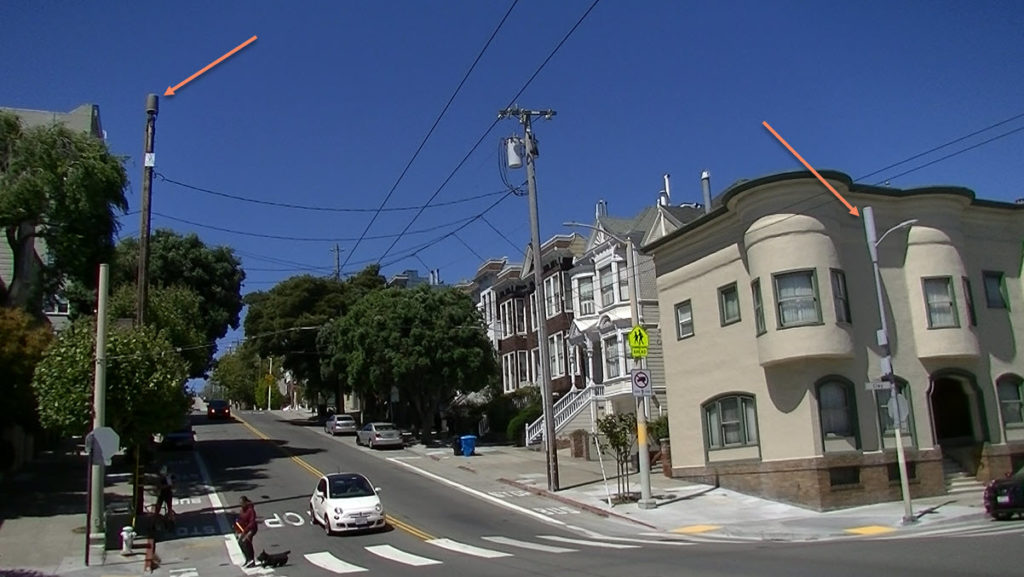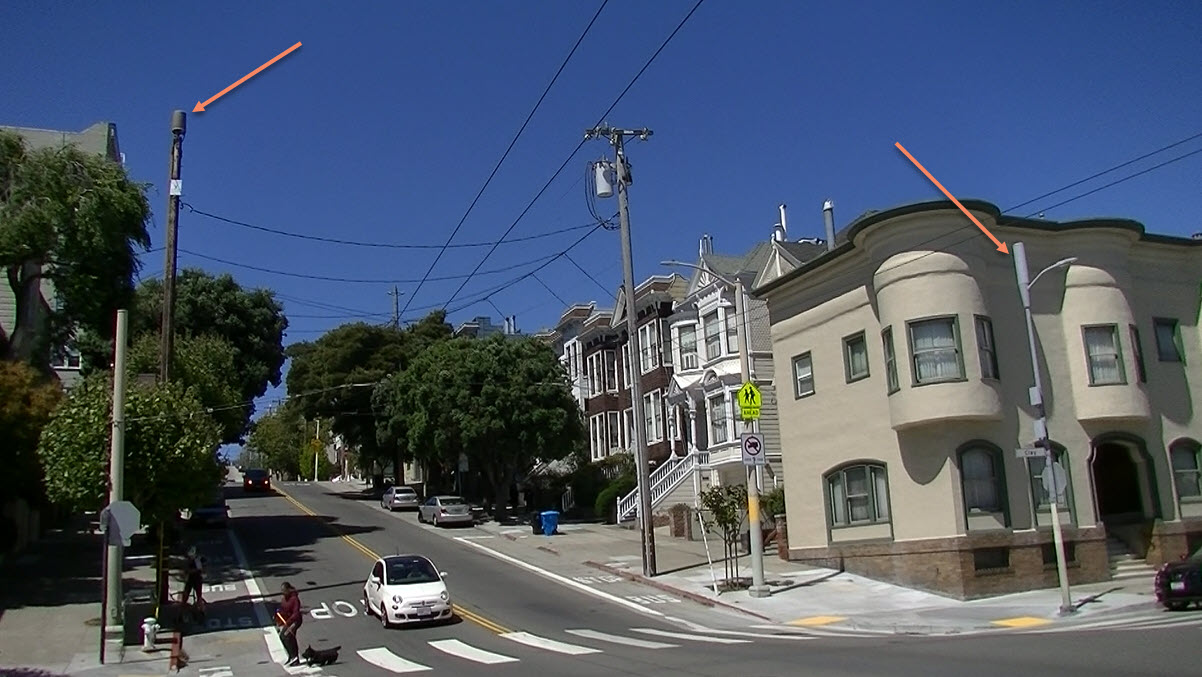 While microwave radiation from wireless technology and magnetic & electric fields from electrical wiring are critically important, EMI is equally problematic for human biology. It's a part of the EMF spectrum that gets very little attention. However, it is a major contributor to electrical sensitivity and poor health. Hopefully this article will help you understand and reduce an important source of EMI in your home – the fiber optic internet infrastructure that is becoming common throughout our communities.
Update August 2022:
For a summary of how fiber optics can be installed properly, please read my statement here. This comment also explains why staying with cable (co-axial) internet is often your best option.
Many internet providers are now starting to install fiber to the home using GPON technology (Gigabit Passive Optical Network). This uses no electrical equipment between the main office and the home. This is the best way to bring fiber to the home. Then you just need to have an ONT unit (fiber optic modem) that you can tolerate.
You do want to check the fiber optic cable coming into your home for EMI. Some will be enclosed in a metal sheath or have a metal backbone. This will allow any EMI on the ISP system to be transmitted into your home. I demonstrate this here:
This article was originally published on September 2019 and updated most recently in August 2022.