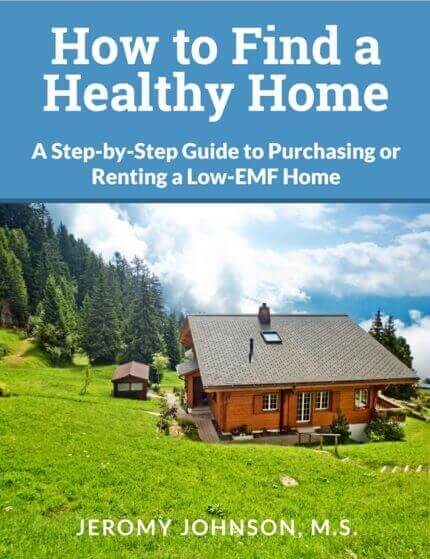 If you are like most people, the electromagnetic (EMF) topic can seem overwhelming. Information overload and conflicting advice are very common. This can stop you from taking the actions necessary to improve your health.
I experienced the same thing when I became electrically sensitive in 2011. This is why I set out to write a book that gives you the clearest information available in the simplest form possible.
What This Book Includes:
"How to Find a Healthy Home" will quickly increase your learning curve so that you have the knowledge necessary to protect you and your family. It includes:
The basics about EMFs to give you a solid background
Common myths about EMFs
Truth about personal protection devices
A step-by-step process to find a low-EMF home
Dozens of pictures of common EMF sources
Steps to reduce the EMF pollution in your current home
Low-EMF suggestions for a new home construction or remodel
The best EMF meters to purchase and how to use them
Guidance to help you find and work with an EMF consultant
This short book will help you learn in a few hours what has taken me a decade of trial, error and research to understand. Hopefully this will help you and your family to find and create a low-EMF home that improves your health for many years to come.
I will be officially publishing "How to Find a Healthy Home" in paperback next year (Send me an email to be notified). You can also purchase the eBook today through the yellow PayPal or blue "Pay with Card" buttons below for $19.95. Once your payment goes through, the 80-page eBook will be emailed to you. Many of my clients take the PDF to a local copy shop to print and bind.
To pay securely with your credit card, please proceed with the blue button:
Here is what others are saying about How to Find a Healthy Home:
"How to Find a Healthy Home has loads of valuable information about electromagnetic fields, how to look for hot spots and how to measure them. It should be an essential item for anyone looking for a new home and has great value for those concerned about limiting their exposure to the electromagnetic fields in their environment." – David O. Carpenter, MD, Director, Institute for Health and the Environment, University at Albany
"This book contains a huge amount of useful information, including some excellent links. It should be considered an important contribution to the protection of citizens, whether electrically sensitive or not, in the ongoing battle between uninhibited technological development and the slower pace of health research, which is coming to the understanding that our bodies are electrical organisms." – Karl Riley, author of "Tracing EMFs in Building Wiring and Grounding"
"How to Find a Healthy Home should be in the library of every family with young children." – Dr. Toril Jelter, Pediatrician, Walnut Creek, CA
"I spent over 10 years looking at a wide range of ways to improve my health and my family's health. Working in Silicon Valley, EMF was one of the last things I considered, but it turned out to have the most rapid and dramatic positive impact.
I wish I had read this book 10 years ago. How to Find a Healthy Home outlines what you need to understand and do to reduce exposure to EMF and its invisible health effects. This can be a technically complex and controversial topic, but Jeromy manages to masterfully present the information clearly and in a non-alarming manner, making it accessible to everyone." – Peter Sullivan, Los Altos, California
"This is the best book, bar none, I've read on this subject or any variation of it. My background is medical, so the physics, electrical and magnetic parts are a bit foreign. You made everything easy to understand. I now feel I can improve my existing environment, and will know what to look for as I search for a safer environment with the intrusive march forward of 5G." – Susan Foster, Medical Writer, US Adviser – Radiation Research Trust (UK)
"Many thanks to Jeromy Johnson for this very helpful book on how to find a low-EMF home! The topic of electromagnetic fields is technically complex, and riddled with contradictory information. This can feel overwhelming to most people. As an engineer who has worked in the field for several decades, I can say that Jeromy has done an excellent job in distilling the information down into a practical and accessible approach that anyone can use. For example, I especially recommend the one-page Mini Guide for Measuring a Property." – Michael Neuert, MA, BSME, EMF Test Engineer, Neuert Electromagnetic Services
"I had my doubts that the book would have useful information as I am interested in remediating my home, not purchasing a new one. Boy was I glad I was wrong." – John Asadourian, Arizona
"I daresay no one has ever presented EMF issues in such a clear and easy to understand manner. Wonderful work!" – Sebastian Ucheagwu, Complementary Medicine Practitioner, Nigeria
"Jeromy's book is methodical, informative, realistic, and straight-forward. You cannot ask for more in one concise resource on such an expansive and complex topic. I've spent years searching hundreds of websites to find the level of purposeful detail and action-oriented advice on how to find and create a low-EMF home. All I needed was this book. If I had read a copy five years ago, I never would have found myself in very unhealthy EMF dwelling spaces that undermined my physical wellbeing. I particularly like Jeromy's inclusion of additional resources and inline web links for more information. His writing tone is friendly and accessible; it's almost like you're having a personal conversation with him. His section on "Measuring Electromagnetic Fields" is most helpful, with clear guidance on proper meters and measurement units, as this can be overwhelming on a mere internet search. Everyone needs to know this information, sensitive or not. So, if you want to find or create a healthy, low-EMF home, definitely read this book." – Alison Main, New York
"Thanks so much for all your help! If it wasn't for you, and reading your book, and having you recommend an EMF consultant, and all your advice, we wouldn't be where we are now." – Kim Eabry, MPH, Los Gatos, California
"Jeromy has the type of knowledge that can only come from someone who has walked this path. I highly recommend this timely guide if you are concerned about the impact EMF pollution can have on the health of you and your family." – Dr. Mary Ann Iyer, MD, North Carolina
"How to Find a Healthy Home is a much needed, essential, and excellent primer for anyone interested in reducing EMF exposure in their current home, or for help finding a safer home to rent or buy." – Sandi Maurer, EMF Safety Network, California
"Whether you are moving out of necessity or simply want to optimize your current home out of precaution, you should read Jeromy's book. He has combined his technical background and experience with EMF injury to make these complex environmental issues perfectly accessible." – Matthew Fisken, EMF Consultant, Pennsylvania
"I have already started reading and WOW this is just what I have been looking for. The plain, simple talk is so good. I can start making changes immediately in my home. Thanks again for sharing your story and this book to help us all!" – Sandra Hayes, North Carolina
"With my partner being electrically sensitive, I am very grateful for this book, which explains in an easy-to-understand way the steps that we can take to assess potential problems and select a home with minimal exposure, or improve a home to remedy an unfavorable situation. Jeromy's generously illustrated book also supplies reliable information on the sources of electromagnetic pollution, as well as the best measuring equipment. Given the complex and serious subjects discussed, the book is easy to read and at times even entertaining." – Dr. Gernot Neuwirth, lecturer (retd.), University of Vienna
"Jeromy, your book is WONDERFUL! It is straight-forward and comprehensive. Thank you! It is also a good resource to give to your real estate agent as it provides actionable points for your agent to address when selecting potential listings." – Joe Buller, California
Here is a nice review of the book on the Weston Price Foundation website.