AT&T is the primary provider of internet service for many communities in the United States. Unfortunately, their gateway modem is a very powerful emitter of microwave radiation and they do not allow non-AT&T modems to be used in their system. With other internet companies, such as Comcast, you can purchase your own wired modem that does not emit WiFi. I outline the low-EMF modem process for other providers in the "Update" section of this article.
The good thing with AT&T is that you can disable the wireless functions of your modem by following some simple steps online. This will allow you to have a WiFi-free environment in your home while still enjoying fast, reliable internet service.
Here are the step-by-step instructions to disable the WiFi from your AT&T modem:
1) Enter http://192.168.1.254 in browser
2) Click on 'Home Network'
3) Click on 'WiFi'
4) Enter 'Device Access Code' found on side of modem
5) Click 'Continue'
6) Click 'Advanced Options'
7) Select 'Off' under 'Wi-Fi Operation' on both '2.4 GHz Wi-Fi Radio
Configuration' and '5.0 GHz Wi-Fi Radio Configuration'
8) Click 'Save' at bottom of screen to save the changes
As you arrow back to the 'Home Network Status' page you will see 'Radio Disabled' under both 2.4 and 5.0 GHz Radio.
The following screenshot shows where you will turn the WiFi off. Here is a full PDF of the process.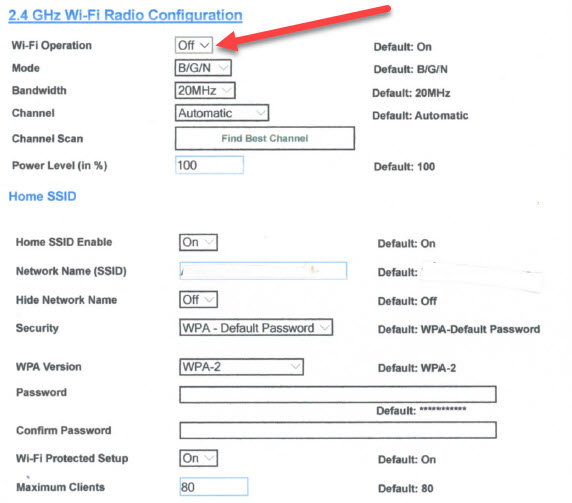 Here is the result showing that the WiFi is indeed disabled for both antennas: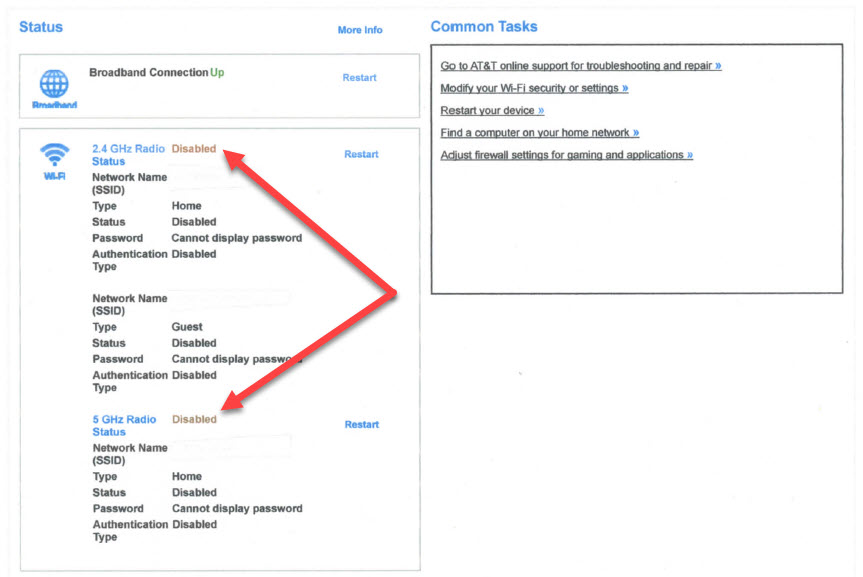 Once you have disabled the WiFi on your AT&T Gateway Modem, you can then create a wired home internet system as I outline in this article. An advanced step that helps all electrically sensitive individuals is grounding your Ethernet connection. You can learn how to do that in this post.
I hope this article helps you have AT&T internet service and a low-EMF home.
Jeromy