An EMF Bed Canopy is one of the best ways to protect your family from microwave radiation exposure (Updated February 2021). I have used one for nine years and it has significantly improved my sleep and severity of headaches. Our best and most recent research also shows that wireless technology affects sleep quality in some people. If you live near a cell phone tower or near neighbors with WiFi Routers and wireless smart meters, an EMF bed canopy is an excellent investment in your health.
Which EMF Bed Canopy is Best for Your Family?
When choosing an EMF bed canopy there a few important things to consider:
Shielding Required: The closer you live to a cell phone tower or other wireless transmitters, the stronger the shielding should be.
Fabric Preference: The Swiss Shield Daylite fabric is more breathable than the Naturell. The Naturell fabric provides better shielding (40 dB reduction).
Fabric Material: The Daylite is polyester, while Naturell is ecological cotton for those that are sensitive to chemicals. The Dream Canopy is silver and other metal coated nylon.
Shielding Underneath the Bed: This is required otherwise microwave radiation will leak under the canopy. You need a full enclosure (like a cocoon).
Here is a short video I created showing how a bed canopy works:
Top Recommended EMF Bed Canopy for Children:
Here is the bed canopy I recommend for children. It is the rectangular twin-size Naturell bed canopy. Here is why I recommend it:
The Naturell fabric has excellent shielding capability. With the new 4G/5G DAS cell towers sprouting up, this is important.
Canopy shields both microwave radiation from wireless technology and the EMI radiating from wiring.
This canopy is made of ecologic cotton in Switzerland, so there are no chemicals/pesticides.
With the straight sides, your child won't be touching the canopy while they sleep. Touching the canopy material at night can increase RF and electric field exposure.
Be sure to get the sheet that goes underneath the bed to create a full enclosure.
You will purchase this EMF bed canopy Safe Living Technologies. You get a 5% discount on your SLT bed canopy purchase with my distributor code of EMFA. When you make a purchase with SLT, I will email you a gift copy of my Ebook and I will be available for all your questions on SLT products.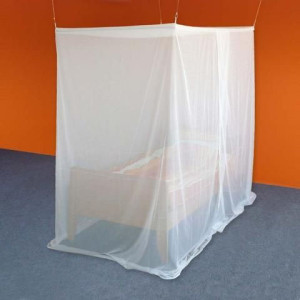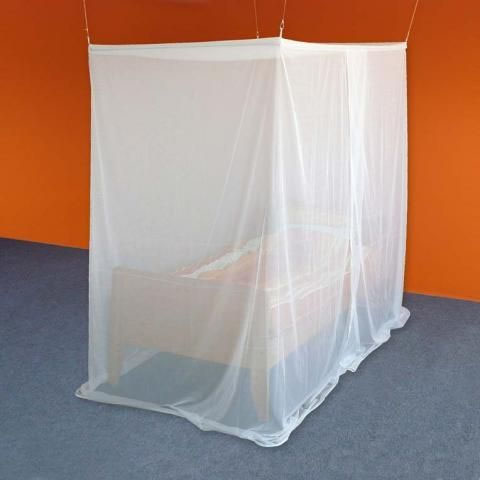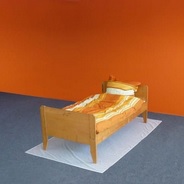 Recommended EMF Canopy for Travel:
For travel I typically recommend the pyramid shaped Naturell travel canopy from Safe Living Technologies. Here is a video that show how they work.  Some of my clients also get the "Dream Canopy" for travel situations.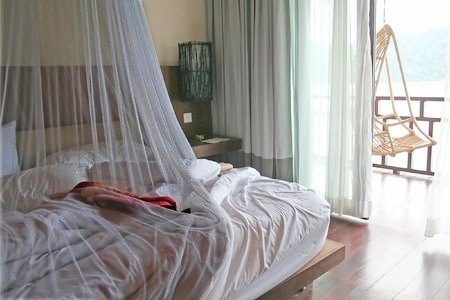 The Dream Canopy is a convenient option if you have to travel a lot for work.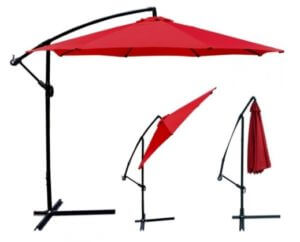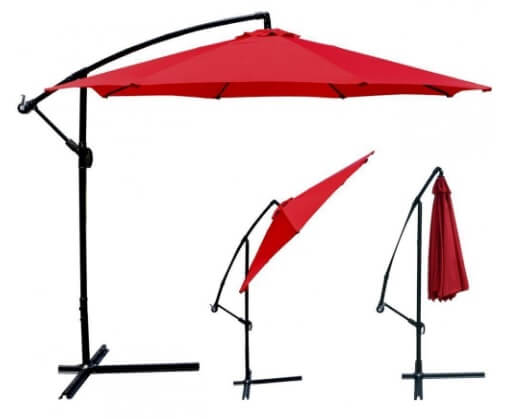 For the above Dream Canopy and the Swiss Shield Daylite Canopy seen below, you can get a patio umbrella stand to hang the canopy. This works well if putting a simple hook into your ceiling is not practical/possible.
Swiss Shield Daylite Bed Canopies – Affordable with good shielding and excellent air flow:
Naturell Bed Canopies –  Chemical-free cotton with excellent shielding capability:
Naturell bed canopy with very high shielding capability. Excellent for very sensitive kids in an urban environment. The fabric is an ecological cotton, which is also best for sensitive kids. It can be found here for $980.

Shielding material for under the bed (only shields RF and electric fields) can be found here.
Special Note: If you would like to purchase a Naturell or Daylite Canopy that has the exact dimensions for your bed, I recommend that you go with Safe Living Technologies in Toronto. They allow for special dimensions and have a wide selection of sizes. You receive a 5% discount on your bed canopy when you use my distributor code EMFA. As a reminder, when you make a purchase with SLT using my code, I will email you a gift copy of my Ebook and I will be available for all your questions on SLT products.
Disclosure: EMF Analysis is partly supported by a small commission for purchases made through some product links on this page. This income enables me to continue to research and write about this important topic.