An EMF Bed Canopy is an important part of creating a sleep sanctuary. A bed canopy will reduce your radio frequency exposures from nearby cell towers, Wi-Fi routers and wireless smart meters. I have used my EMF bed canopy for twelve years and it has significantly improved my sleep quality. It is one of my best health investments the past decade. 
In this guide I explain the basics of EMF bed canopies and share which canopies I recommend for your family. I also detail how to install your canopy, why I don't advise grounding a bed canopy and how an EMF bed canopy can make travel healthier for you.
Which EMF Bed Canopy is Best for Your Family?
When choosing your EMF bed canopy, there are a few important things to consider:
Shielding Required: The closer you live to a cell phone tower or other wireless transmitters, the stronger the shielding should be. It is best to measure the RF exposures before purchasing a canopy.
Fabric Preference: The Swiss Shield Daylite fabric is more breathable than the Naturell. However, the Naturell fabric provides better shielding (40 dB reduction).
Canopy Material: Swiss Shield Daylite is polyester, while Naturell is ecological cotton (OEKO-Tex Certified) for those that are sensitive to chemicals. The Dream Canopy is nylon coated with silver and other metals.
Shielding Underneath the Bed: This is required unless you are on the ground floor. Otherwise microwave radiation will leak under the canopy. You want a full enclosure for RF shielding, like a cocoon.
Electric Field Exposure: The best combination is using an EMF bed canopy for RF exposures and turning off your bedroom breakers at night to reduce the electric fields. I discuss this more below.
My Recommended EMF Protection Bed Canopy
The EMF bed canopy that 90% of my clients purchase is the box-shaped Swiss Shield Naturell bed canopy. Here is why I typically recommend this type of bed canopy:
Naturell fabric has excellent shielding capability (40 dB or 10,000 times reduction). This material protects against the 4G/5G cell towers being installed in our neighborhoods.
The canopy shields both microwave radiation from wireless transmitters and the EMI radiating from wiring.

This

EMF protection canopy

is made of ecologic cotton in Switzerland with no chemicals/pesticides.

The thin copper and silver threads are woven inside the fabric through a special process invented by Swiss Shield. This means you won't breathe in any metal particles.
The Naturell fabric holds up over time through dozens of washes without losing any shielding effectiveness.

With the straight sides you won't be in contact with the canopy while sleeping. Touching the canopy material at night can increase RF and electric field exposures.
In this video I show how the Naturell canopy can reduce the RF levels where you sleep from an extreme 10,000 µW/m2 to a very healthy 1 µW/m2:
Purchasing Your Naturell Bed Canopy
If you choose to purchase the a Naturell bed canopy, I recommend that you also get the floor sheet to create the full enclosure.  You will receive a 10% discount with my coupon code EMFA when you purchase through Safe Living Technologies. Here are the most popular options loaded directly into your SLT cart with the discount:
Your bed canopy will arrive from Toronto within a few days. SLT is one of the most reputable EMF companies in North America and ships anywhere in the world. I have partnered with them for EMF meter and bed canopy purchases for eight years.
With your bed canopy purchase, I will send you a free copy of my eBook How to Find a Healthy Home and provide 20 minutes of free consulting to answer any EMF questions you may have.
Ordering a Custom Style Naturell Bed Canopy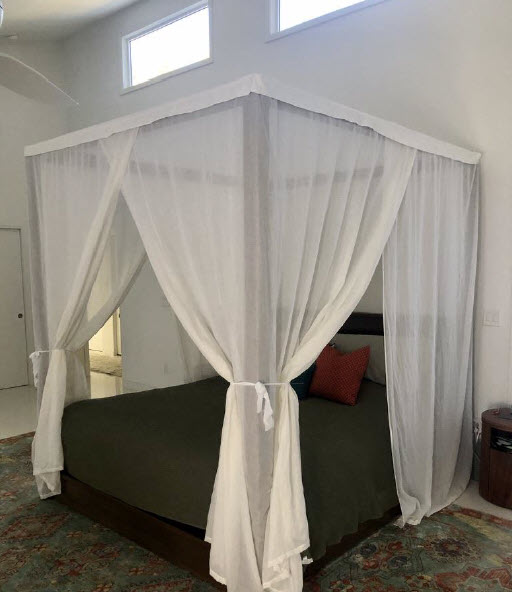 Your bedroom may have high ceilings or it may not be possible to install hooks. In such situations, many of my clients purchase or create a wooden canopy frame. You can buy elegant frames online or build your own inexpensive wood dowel frame using these simple instructions.
Once the wood frame is installed over the bed, you then measure the outside dimensions and record them on this form. You will then select the "Custom Style" option when ordering on this page. Safe Living Technologies will make a Naturell canopy that fits your frame perfectly. A wood frame with the custom style bed canopy can be seen above.
EMF Bed Canopies for Travel
For low-EMF travel, I typically recommend the pyramid-shaped Naturell Travel Canopy or Daylite Travel Canopy. These pyramid shaped canopies are light and can be installed relatively easily in most hotels. You can see the various ways I install my travel canopy in this document.
I have had my Swiss Shield Daylite Travel Canopy for 12 years, which can be seen at right installed in a hotel. I actually never travel without it because it has saved my sleep in so many situations.
Other pyramid options for travel are the Topas Bed Canopy and Dream Canopy. The Topas canopy offers moderate RF protection, similar to the Swiss Shield Daylite fabric. The Dream Canopy offers significant radio frequency reduction (40 dB or 10,000X), which is similar to the Naturell fabric. However, it is externally conductive with metals on the outside of the fabric. I discuss the downsides of such fabrics and the pop-up travel canopies and sleeping bags below.
I recommend that you purchase a king size travel canopy because most hotel beds you encounter are that size. You also want to travel with a floor sheet in case you are not on the ground level. I pack an 8′ x 8′ piece of Naturell fabric in my suitcase. This will help you create a full enclosure for your canopy in almost any travel situation.
How to Install Your EMF Bed Canopy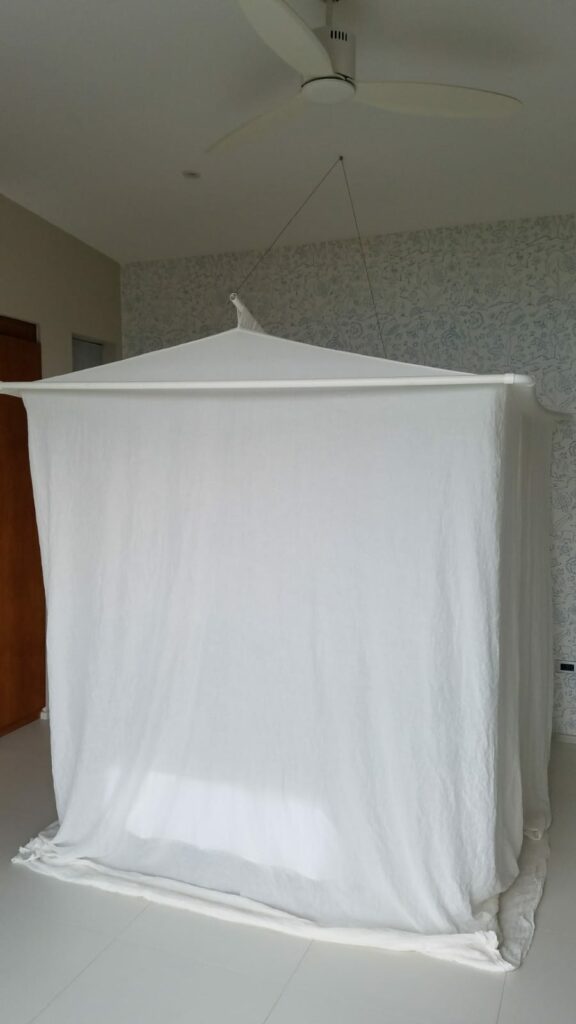 Many of my clients install their Naturell bed canopies using six hooks that are placed into the ceiling. However, you can also use one primary attachment in the center above your canopy, which you can see with my Naturell canopy at left. I then hang the bed canopy using a light PVC frame. This works great in a situation where you prefer to install just one hook.
It is not always possible to drill holes into your ceiling. In these cases, you can create your own wooden or PVC frame. The canopy material will then hang over it, as you can see in the Custom Canopy section above. Here are excellent DIY instructions for creating an inexpensive canopy frame for a twin bed. For queen/king sized bed canopies, here are simple DIY instructions for a wooden frame. These DIY wood frames will cost you $100 – $150 and are quite easy to set up.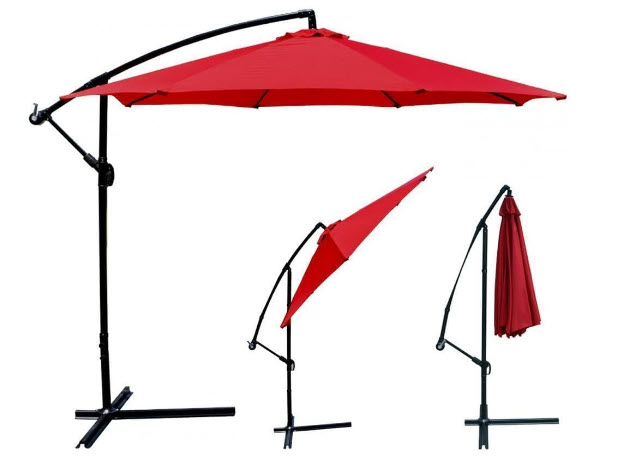 For the pyramid shaped travel canopies I recommend above, you can get a patio umbrella stand. This works great if putting a hook into your ceiling is not possible. As I mention in my travel bed canopy document, you can also hang a pyramid shaped canopy from ceiling fans, light fixtures and wood beams.
How to Care for Your Swiss Shield Bed Canopy
When your Naturell bed canopy first arrives, I recommend that you let it air out for a day or two. There may be a slight smell from the packaging material. You will need to wash your EMF bed canopy periodically over time. Depending on the climate and conditions in your home, Swiss Shield fabrics may collect dust. I have lived in homes where washing my canopy once a year is adequate. In other homes, it was necessary every couple of months. If you feel congestion in your nose or throat in the morning, that can be a sign that your canopy needs to be washed. I also suggest opening your canopy during the day to help with air flow.
You will hand wash your canopy in cold/neutral temperature water with a small amount of organic laundry soap. I let the fabric soak in the sink for 30-60 min. Then hand rinse thoroughly and hang the canopy outside in the sun or somewhere that will allow it to naturally dry. Do not put your canopy in the dryer. The Naturell fabric will be slightly wrinkled when you re-install, which is just fine. It may look similar to linen after washing for a few weeks.
The Naturell and Daylite fabrics can be washed dozens of times without losing shielding effectiveness. Swiss Shield actually has the world record and patent for the thinnest copper strand ever manufactured. These thin strands of copper are then woven into chemical free cotton in Switzerland. In my experience, Naturell is a much superior and healthier fabric than the bed canopies with various metals on the outside of the material. You will learn more about such fabrics in the next section.
Do EMF Bed Canopies Block 5G?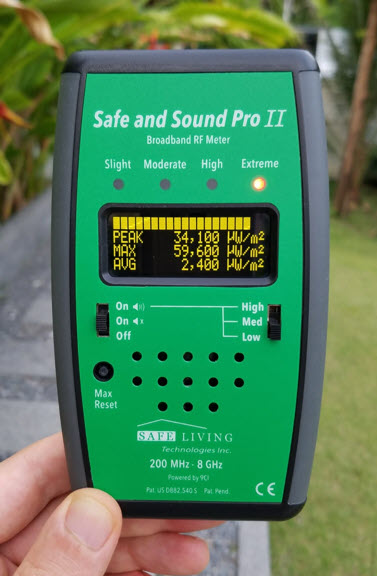 You may have noticed that many companies advertise their bed canopies block the new 5G cellular frequencies. The truth is that almost all bed canopies block 5th Generation technology. Let me explain why.
Most 5G today is at lower to mid-range radio frequencies. The lower bands are 600-800 MHz and the middle bands, typically called C-Band, are from 2.5 to 6.0 GHz. This is very similar to the existing cellular and Wi-Fi technologies. Almost all EMF bed canopies greatly reduce these frequency bands, often by 30 to 40 dB or 99.99%. You can see the shielding performance graph for Swiss Shield Naturell fabric here.
The high frequency 5G technology that gets so much attention is at millimeter wavelengths or mmWave. This wireless technology ranges from 25 to 60 GHz. The important thing to understand about such high frequencies is that they act more like light. Millimeter waves simply do not go through leaves, walls, windows or even moist air very easily.
When professional EMF consultants measure these mmWave frequencies in homes, they typically don't exist. Even if you have mmWave 5G antennas in your neighborhood, those frequency bands will have a very difficult time getting through walls into your bedroom. As long as you don't have any mmWave transmitters in your home, there is no reason to have an EMF bed canopy that is specially designed to block these higher mmWave frequencies.
It is because the new mmWave technology is not working very well that most 5G is moving toward the mid-range C-Band frequencies. These frequencies easily penetrate the walls and windows of our homes. Unfortunately, this move to C-Band technology will increase our RF exposures and make EMF bed canopies an even better investment in the future.
Should You Ground EMF Bed Canopies?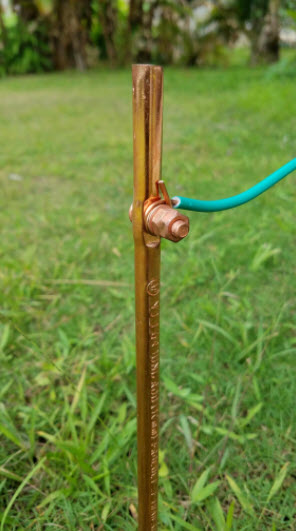 Most sleeping areas have AC electric field exposures that come from the surrounding electrical wiring. Before installing your bed canopy, the best practice is to reduce and eliminate the electric fields by unplugging everything around your bed or turning off the circuit breakers to your bedroom. You can do that manually or with a remote cutoff switch.
Some EMF consultants recommend grounding your bed canopy. While this will typically reduce the AC electric fields, it will introduce other problems and is not a practice I recommend. Nearly every long-time EMF professional I have spoken to – consultants and engineers with 20-30 years' experience – does not recommend grounding bed canopies. They have seen too many clients have bad health outcomes from this practice.
Reasons to Not Ground Your Bed Canopy
There are several reasons why I don't recommend grounding your bed canopy:
First, to be grounded the bed canopy material must be externally conductive. This means the metal particles are on the outside of the fabric. Such canopy materials often come from China and are nylon coated with metals. This type of material loses its shielding effectiveness quickly as the metals flake off. They also release metalized ions that you can breathe while sleeping. This isn't healthy for anyone, but especially for people who are chemically sensitive or have MCAS (Mast Cell Activation Syndrome). This includes many electrically sensitive people.
Another issue with grounding bed canopies is that most people simply ground to an electrical outlet. This does reduce the electric field exposure, but it will also connect your canopy to any high frequency EMI (electromagnetic interference) or "dirty power" on the electrical system.
This EMI will then radiate from your canopy material and affect your sleep quality. Some of the pop-up travel bed canopies sold online recommend plugging them into the hotel electrical system. This is a practice I would never recommend, especially in a commercial building which typically has lots of EMI on the wiring. Not only will you be breathing in metal ions in an environment without enough air flow. There is also high frequency EMI radiating from the shielding material around your body all night.
Here is a video where I use an AM radio to demonstrate the high frequency EMI on an electrical system:
Grounding Your Bed Canopy Directly to the Earth
It is possible to ground your bed canopy to the earth outside, which is typically a much cleaner ground. However, I still do not recommend this practice. When grounding an externally conductive canopy, there is always a slight risk of shock or worse. This can happen from lightning strikes or the ground wire/canopy material inadvertently touching a live electrical wire.
Furthermore, if you are in a home where you have access to a clean Earth outside, you also typically have the ability to eliminate your electric field exposures in your bedroom. This means there is no benefit to grounding your bed canopy.
You can now see why I recommend bed canopy fabrics such as Swiss Shield. They are healthy and effective to use over time because the copper and silver threads are woven inside the fabric and do not flake off. I have used my Swiss Shield bed canopies for over twelve years with increasing levels of health.
Conclusion
I hope this EMF bed canopy guide has explained everything you wanted to know about these products. It's one of the best EMF investments I have made for my health, which is why I wanted to share this information with you. If you have any additional questions, please send me a message.
Thank you,
Jeromy
Updated August 2023
Disclosure: EMF Analysis is partly supported by a small commission for purchases made through product links on this page. This income enables me to continue to research and write about this important topic. Thank you for supporting my work.