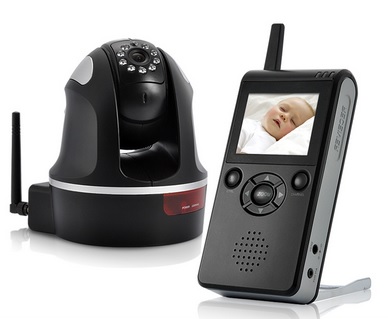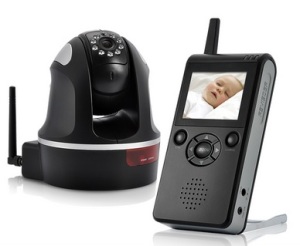 One of my least favorite inventions the past decade from a health perspective is the wireless DECT baby monitor. The research certainly shows we should limit our use of this technology and many parents are finding other solutions.
Within this article I outline 3 possible solutions for families looking for the lowest EMF baby monitor setup:
A

low EMF wired baby monitor system

from D-Link (See below)

For European parents, the NUK BabyPhone (Only available in Europe) is a

low EMF baby monitor

unit

For American parents, the SmartNOVA Baby Monitor (Discontinued for a Technology Upgrade)
I have measured homes where the highest levels of microwave radiation were right next to a sleeping infant from a DECT wireless baby monitor. The readings were thousands of times higher than what is now considered safe. This news report explains why:
So, what are you to do?
How to Set up a Low EMF D-Link Wired Baby Monitor:
One simple solution is a wired baby monitor. You will still have all the functionality of a modern baby monitor (you can hear and see your baby from any connected device). However, the data from the camera will be sent via Ethernet or your home wiring. This will eliminate having a powerful microwave antenna that is right next to your sleeping child.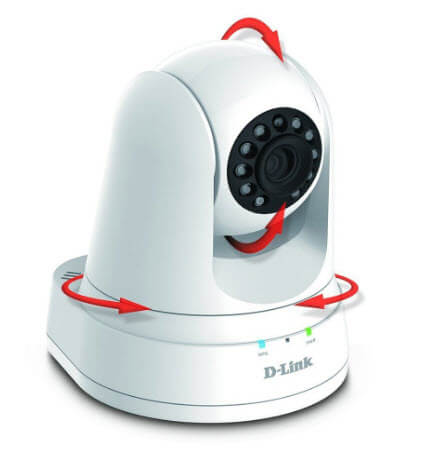 You will need two items for this low EMF monitor setup:  1.) an Ethernet-enabled D-Link Camera ($70) and 2.) the Powerline Adaptor Kit ($40). Note: You will only need the powerline adapter kit if you don't have Ethernet wired to the nursery. The total cost is approximately $110. This is less than most high-end wireless baby monitors, plus this setup will also give you peace of mind.
Detailed Instructions for the Low EMF Wired Baby Monitor
Here are the basic instructions to setup this D-Link camera system (Special Note: more detailed instructions from a reader can be found here). The video below will also show you exactly how these low EMF baby monitors work.
When you open the box, connect the camera via an Ethernet cable directly to your router. This will identify its IP address and connect it to the D-Link cloud where the video will be streamed to your laptop or phone.
Then place the camera in your baby's room and either run a long Ethernet cable to your router or use the PLC data transmission outlined in the next step.
For PLC use, you will need the Powerline Adapter Kit. One adapter is plugged into an electrical socket in the baby's room. You will run an Ethernet cable from the camera to this adapter. The video and sound data will then transmit along that powerline to a second adapter that is plugged in near your router. Run a second Ethernet cable from that adapter to a port in your router.
Your camera is now able to stream video and sound to the D-Link cloud that you can view from any internet connected device (either a wired laptop or a smart phone/iPad that is connected to the internet). The D-Link camera comes with specific instructions to access this video. You can view the exact steps here.
The D-Link cameras have been verified to not emit WiFi when they are connected using Ethernet cables. The WPS light will be off when connected via Ethernet.
Here is the mydlink app for Apple Devices and Android. This will allow you to watch your child from any internet connected device.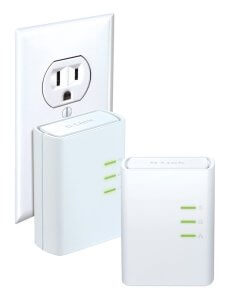 The primary advantage of this baby monitor system is that there is no powerful microwave transmitter right next to your newborn. Unfortunately, the overwhelming majority of new parents are now using dangerous wireless baby monitors.
Use Powerline Communication or Ethernet to Connect
The PLC data transmission system (pictured at right) will create some "dirty electricity" in your home. This is because the data is sent using electromagnetic interference (EMI) on your home wiring. Although this is not perfect, it is still much better than having a WiFi transmitter next to your baby. If you can possibly run a long, shielded Ethernet cable from the camera to your router (without tripping on it!). Having Ethernet wired into your walls is the best option.
Here is a wonderful video by August Brice of Tech Wellness demonstrating how to install this system:
NUK Baby Phone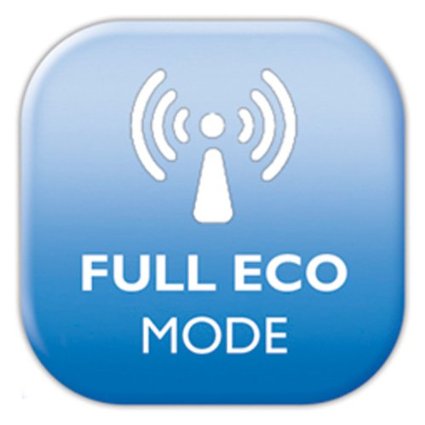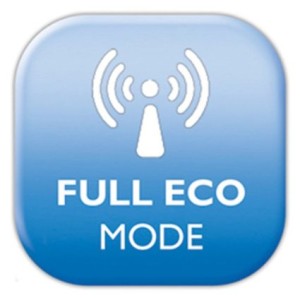 Recently, we were in Vienna visiting friends with a newborn. They shared with us the baby monitor that is becoming quite popular in Austria/Germany. It's the NUK BabyPhone. The thing about this baby monitor is that it has an "Eco-mode" that only uses microwave radiation to transmit data when the baby moves (yes, supposedly to save you energy). The website says this will reduce the transmissions by approximately 90%.
I still like a wired baby monitor the best, but, at least in Europe, parents have the option for a monitor that is not irradiating their child 24/7. This website will ship the NUK to the US/Canada if you would like to try this option.
SmartNOVA Baby Monitor (Currently Discontinued)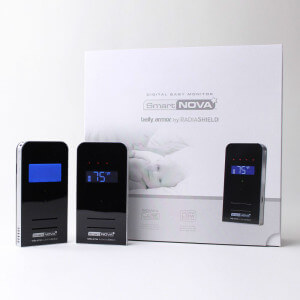 In the United States, we have something similar to the NUK BabyPhone in this new baby monitor from Belly Armor. It's called the SmartNOVA and claims to use 97% less radiation than the normal DECT baby monitors. 
This means they have greatly reduced the radiated power of the SmartNOVA monitor by using a technology (similar to a low powered cell phone) that is different than DECT technology. The following is what the Norwegian manufacturer, NOVA, claims for RF output:
"CARE is a digital radio technology, just a very low power output one and one that does not rely on rapid bursts of high power, like DECT:
DECT baby monitor <250 mW pulsing radiation

ECO DECT baby monitor <50 mW pulsing radiation

CARE baby monitor <5 mW non-pulsing radiation" 
One EMF consultant recently measured a SmartNOVA baby monitor that one of his clients had purchased as was very surprised by how low the RF emissions were. This is much less than any wireless baby monitor on the market. We still recommend that the camera be at least 6-8 feet away from the baby and that the master controller in the parent's bedroom be equally as far from where you sleep.
[Note: The SmartNOVA has not been available for sale for over five years and likely will not be on the market again.]
Reviews of Wireless Baby Monitors:
I appreciate this article by Tech Wellness where August Brice reviews some of the wireless baby monitors on the market that call themselves "Low-EMF." Like most infrared sauna companies, the term Low-EMF has become a marketing technique, but very few saunas or baby monitors are actually low-EMF. Read the article and watch the videos where she reviews the Bebcare, Nanit, Owlet, Snuza and Angel Care baby monitors. Ultimately, none of these options are low-EMF and something you would want to put next to your child.
This article was originally published in 2016 and most recently updated October 2022.
Disclosure: EMF Analysis is partly supported by a small commission for purchases made through some product links on this page. This income enables me to continue to research and write about this important topic.