One question that comes up a lot is how to wire an iPad or iPhone. This can be very beneficial to people who use Apple devices for their work (improved security and health outcomes). A few years ago, this process was complicated and rarely worked. However, in conversations with Apple employees and product users who have had recent success, it appears that Apple is making this much easier to accomplish – especially if you use their hardware and the newest OS.
Below are two videos to help you wire your iPad or iPhone. Additionally, here are the specific steps that successfully allowed one reader to wire her iPhone and iPad using an Ethernet connection:
"My connection sequence is as follows: Wired Router -> Ethernet Cable -> Apple USB Ethernet Adapter -> Amazon Powered USB Hub (see first video below) -> Apple USB to Lightning Adapter -> iPad or iPhone.
The key element here is that your iPad and iPhone must be up-top-date with the latest OS. Earlier OS's will not connect to the Ethernet. When the you make this connection, Ethernet miraculously appears in the settings list for connections (see image below). Turn off Bluetooth and WiFi, put your device on Airplane Mode and you are connected. You will not receive calls, but you have full access to the internet."
I would add two things:
1.) Newer iPads and iPhones may only have a USB-C (Thunderbolt 3) port. Instead of the USB Lightning Adapter, you will need this Apple USB-C to USB Adapter for the last step.
2.) As you can read in this article, reducing the EMI coming to your device from power supplies is another important aspect of EMF reduction. As the USB hub above is powered, I would also ground it using this USB to Ground Cord. This should help reduce the EMI coming to your iPad or iPhone, which you can confirm with your Electric Field meter.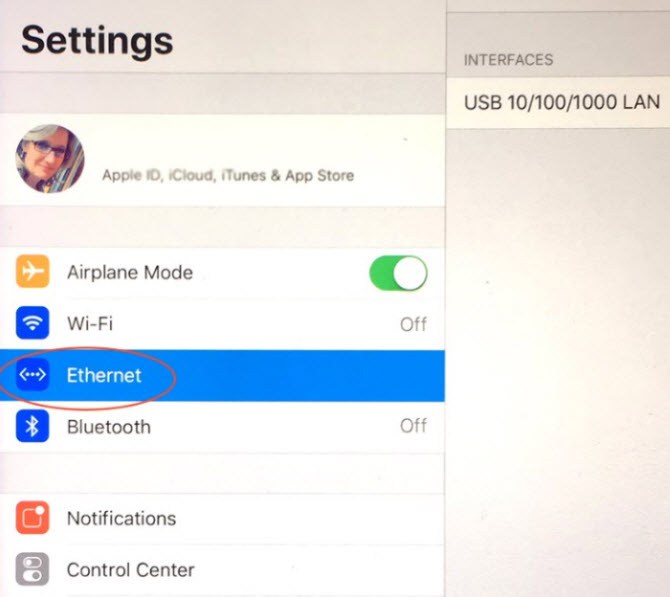 This video succinctly shows the steps seen above (without the EMI grounding part):
The following video also shows you how to successfully wire your iPad or iPhone:
This article was updated April 2018.