There are simple, effective steps that you can take to reduce your EMF exposure while on a laptop computer. The following are the steps you can take:
Image 1: The typical way that laptop computers are used. There are a few things that are wrong with this picture:
The laptop is connected to the internet using Wi-Fi, instead of an ethernet connection.
The computer is plugged in, rather than utilizing battery power (higher electric field).
The user must place their hands on the keyboard, where there is a high EMF field.
The computer is not grounded.
Image 2: How a laptop computer can be used more safely. Utilizing these methods, headaches and fatigue should diminish and you can be on the computer much longer without negative health effects:
A wired external keyboard and mouse allow the user to not touch the computer. Here is an ultra-low-EMF mouse. This ball-type Dell mouse is also a great way to go.
A wired ethernet connection is used for internet applications (reduces microwave radiation). I recommend Cat-7 ethernet cables as they are better shielded (good for performance and lessening electric fields). Here is a 25′ cable and a 50′ cable.
Use a Router Guard if you absolutely must be in a situation where a WiFi router is on in your home or at work. This Netgear WiFi router has an easy On/Off switch.
The "Airport" or wireless functions are turned off so that the computer is not sending out bursts of microwave radiation to search for a wireless router (usually every 10-15 seconds).
The computer is running on battery power – not plugged in (much lower electric field is created).
The computer is grounded (not necessarily the user). Note that electric fields in the room should be checked before grounding is implemented. It is usually best to ground the computer itself using USB printer cables and a gator clip to outlet cable. This USB Ground Cord is ideal. This Plug-to-Gator cord is also useful. You can test your outlets with this tester.
A Defender Pad is placed over the computer, which shields many different frequencies. I also use a HaraPad.
With an external keyboard and mouse, you can place your laptop on some books or a stand so that you have proper ergonomics as well (not looking down all day).
The actual computer is farther away from your body, which reduces the amount of EMF pollution that your body/brain is exposed to. Distance is your friend (see pic below):
If you are EHS, then utilize some of the advanced steps listed in this article.
By taking a few inexpensive and simple steps, you can utilize all the benefits of technology while also keeping your health for many years to come.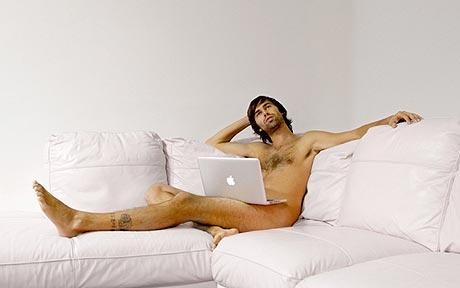 Distance is your friend when it comes to EMF's. Never put a device directly on your body.
Comments from Previous Web Platform