Brain fog and reduced cognitive function are becoming more common in our society. This is likely due in part to the growing number of toxins in our environment. I have found that my brain operates at peak performance when I have 1.) a low-EMF, low-chemical, no-mold environment, 2.) regular detox/exercise practices and 3.) my nutrition/supplementation is optimal for brain health.
In this article, I share the detox, nutrition and supplementation protocols that have worked best for me over the years. After nearly a decade of testing many different methods, the following has helped me enter a period where my brain is functioning even better than it did before I became electrically sensitive.
Disclaimer:  I am not a medical doctor and this is not medical advice. I am simply sharing practices that work best for me after years of trial and error. This may or may not work for you. Please consult a physician that you trust if you have questions. Also read The End of Alzheimer's by Dr. Dale Bredesen, Outstanding Health by Dr. Michael Galitzer, Eat to Beat Disease by Dr. William Li,  The Brain's Way of Healing by Dr. Norman Doidge,  The Better Brain Book by Dr. David Perlmutter, Tripping over the Truth by Travis Christofferson and Tools of Titans by Tim Ferriss, where he interviews top brain scientists and medical doctors who are doing cutting-edge work on brain function.
Update (2023): The following are the detox methods, supplements and nutrition practices that have helped me the most the past decade. I currently use the detox/nutrition practices seen in points 1-10 below to be in one of the healthiest states I have experienced in my life. Listen to your own body and your trusted health practitioners to determine the best path for yourself.
1.) Nutritional Balancing/Trace Elements: The past five years I have been following the Nutritional Balancing/Trace Elements protocols, which are based on the work of Dr. Paul Eck. In short, the diet is 80% organic steamed vegetables (to re-mineralize the body), good fat/protein, very little carbs/fruit and a few supplements based on my specific needs.
The program also includes (when possible) daily near-infrared saunas and coffee enemas. I also add an occasional colonic and a series of liver/gallbladder cleanses to great effect. The improvements thus far in my energy, clarity, sleep and overall well-being have been excellent. However, my ES symptoms persist when my environment/computer setup are not ideal.
2.) Molecular Hydrogen: I have been experimenting with molecular hydrogen tablets the past six years for airline travel. The results have been quite surprising and made several long overseas flights seem easy (I felt strong with almost no jet lag upon landing). Many of my friends have reported the same experience. Here is an excellent video discussing this new supplement.
You can learn about H2 benefits while flying in this video (at min 51:50). From my research and trying several different brands, I use Vital Reaction H2 capsules, which you allow to completely dissolve in a small bottle of water and drink within a few minutes of taking off. I repeat this every couple hours until the flight lands. You get a 10% discount on the H2 tablets when you put in "Jeromy" at checkout.
3.) Pure Hawaiian Spirulina: Many people who experience electrical sensitivity have a mast cell dysfunction that causes an overload of histamine in the body. This is why my face & skin get quite red after extended computer use and/or high EMF exposures. There is now clinical evidence that spirulina reduces histamine in the body. I have been taking 10 grams/day of this highly recommend brand for the past six weeks and my facial redness has decreased significantly. This brand is also wonderful to add to a smoothie and has a light blue color.
4.) Tumeric w/ Meriva: Tumeric is highly anti-inflammatory, which can help with EMF exposures. However, our body absorbs very little of it when taken straight or mixed with pepper. With Meriva, it is able to get through the liver and even cross the blood brain barrier. This is supposedly 4,000 times more effective than with black pepper.
5.) Super DHA: We all need more omega-3's for brain health. DHA supplementation is essential because your body does not produce it. Further, 25% of your brain fat is DHA, so you simply need this for a healthy brain. I like this brand because I don't taste the capsules.
6.) HRV Training: The past two years I have been monitoring my heart rate variability (HRV) and heart coherence. I do this with the emWave2 from HeartMath.com. HRV is a measure of the difference in time between heart beats. The healthier and more relaxed we are (parasympathetic state), the more variability there is between heart beats. I have watched my HRV improve greatly the past two years. When my HRV is high, my body and brain are functioning at their best – like they are humming. Here is a screenshot of a recent 20-minute HRV session: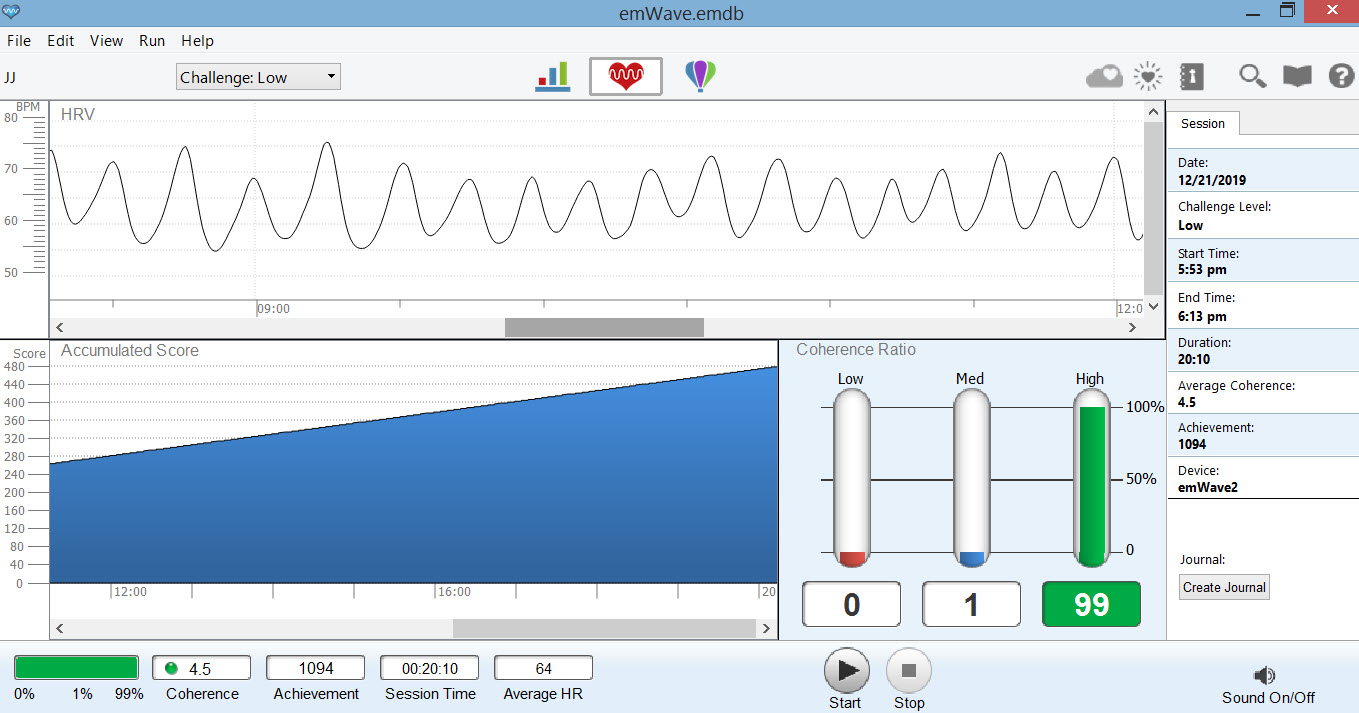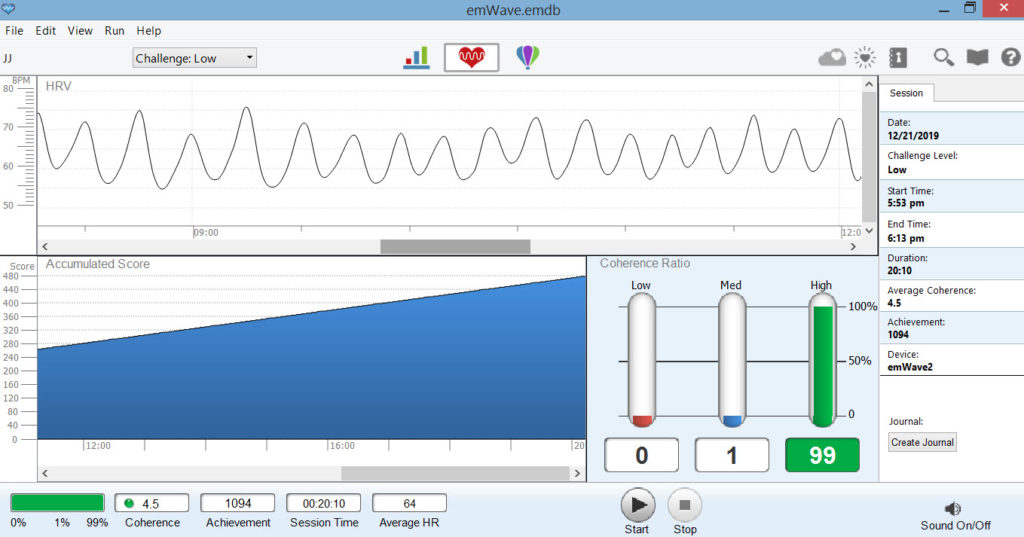 7.) Restore: This is a product I have used occasionally to improve microbiome health (which directly affects the brain and immune system). It helps heal the gut lining from the effects of pesticides like Glyphosate, which is now in nearly every non-organic food you consume. This video by Dr. Darren Schmidt explains why Restore works so well. You can test the health/diversity of your microbiome with Viome.com.
8.) Berberine: Many of the bio-hackers in Silicon Valley are taking small doses of Metformin to lower their blood sugar (and the consequent insulin / inflammation response). However, there are quite a few possible side effects with Metformin. Berberine does the same thing, but with less downside. I have been experimenting with this the past two years with good results and no problems.
9.) Inclined Sleeping: This is a simple, inexpensive tip that can help your brain detox at night, which is one of main reasons why we sleep. If you raise the head of your bed a few inches, with wood blocks under the bed legs, you will sleep at a slight incline. I read about this idea in Game Changers (Chapter 7) and have tried it for a couple months – to a surprisingly good effect on how I feel upon waking each morning.
10.) Magnesium Threonate: If you have read the excellent book, The Magnesium Miracle, you know how important magnesium is for your overall health. Magnesium Threonate is best for brain health. I have also used this pico-ionic form for a couple years. Magnesium Bicarbonate is another good route to go. You can learn about this at minute 48:00 of this video.
11.) Ubiquinol CoQ10 with Mitochondria Support: Mitochondria are the energy source for your brain cells. They are also harmed by EMF exposure. This supplement is one way to give your brain what it needs to repair itself.
12.) N-A-C Sustain: Glutathione is vital for detoxification and reduction of oxidative stress in your brain cells, but it is difficult to absorb as a supplement. N-Acetyl-L-Cysteine (NAC) helps your body produce its own glutathione, which can help keep your brain clear. I have also recently been introduced to Seeking Health Liposomal Glutathione, which is absorbed by the body. This product was created by Dr. Ben Lynch, the author of Dirty Genes and the genetic testing website StrateGene. This podcast gets into this topic more deeply.
13.) Raw B-Complex: B Vitamins are critical for brain health and energy. This is my favorite source as it comes from whole foods, rather than being derived synthetically.
14.) Lithium Orotate: This trace element can help protect the brain/nervous system.  Most of us don't get enough lithium from our food and water supply, so it can be good to supplement at low doses. Here is a review from a medical doctor on the safety of taking low-dose lithium.
15.) Alpha Lipoic Acid: This is another powerful antioxidant that helps your body produce glutathione. It also binds to heavy metals and can carry them out of your body. Studies with rats show that when used together with Acetyl-L-carnitine, the animals did much better on memory tests and had more energy. Carnitine is a known "neuronal energizer" and helps detoxify the mitochondria in your brain cells.
16.) Ginko Biloba: Ginko is an antioxidant known to increase cognitive function and memory, particularly for people who are experiencing cognitive decline. My reason for taking this is that it provides some relief from EMF headaches through improved blood flow.
17.) Magnesium Ascorbate: This is the easiest form of Vitamin C that I have ever taken. It provides antioxidant support and crosses the blood-brain-barrier to protect your brain cells from free radicals. I usually put a teaspoon in a morning drink with Bragg's Raw Apple Cider Vinegar , organic lemon juice and filtered water.
18.) Brain Octane Oil: There are times during the year when I put my body into ketosis for a week. During these times, I have a couple Bulletproof coffees each morning (using an AeroPress for brewing and a NutriBullet for blending). I add three tablespoons of grass-fed butter and one tablespoon of Brain Octane. I also add a dash of cinnamon and then blend for 30 seconds. The coffee tastes incredible and helps my body produce ketones. The coffees are all I need until lunch around 1:00 pm each each day (often my only meal when I practice intermittent fasting).
19.) Vitamin D: This is an important supplement for brain health – especially during the winter months. It's a potent antioxidant. I have taken these high-dose drops for years and monitor my Vitamin D levels with blood tests.
Finally, deep sleep is likely the most important practice for brain health. Meditation, stress-reduction, epsom salt baths, steam saunas and cold thermogenesis (I put my face in ice-cold water for a few minutes!) really help me wind down at night. I also use blue light reducing glasses when I use a computer after sunset. And, right before bed, I occasionally supplement with either sublingual melatonin, phosphatidylserine (reduces nighttime cortisol – that 4:00 AM wake-up call) or tart cherry juice, which is a potent antioxidant that contains melatonin.
I hope this gives you some nutrition ideas that improve your brain health. Try a few of the above practices that seem appropriate for your needs. Share your experience and methods that work for you below. It will help us all to learn from you. I'll be updating this page over time as I learn new practices that help keep my brain healthy.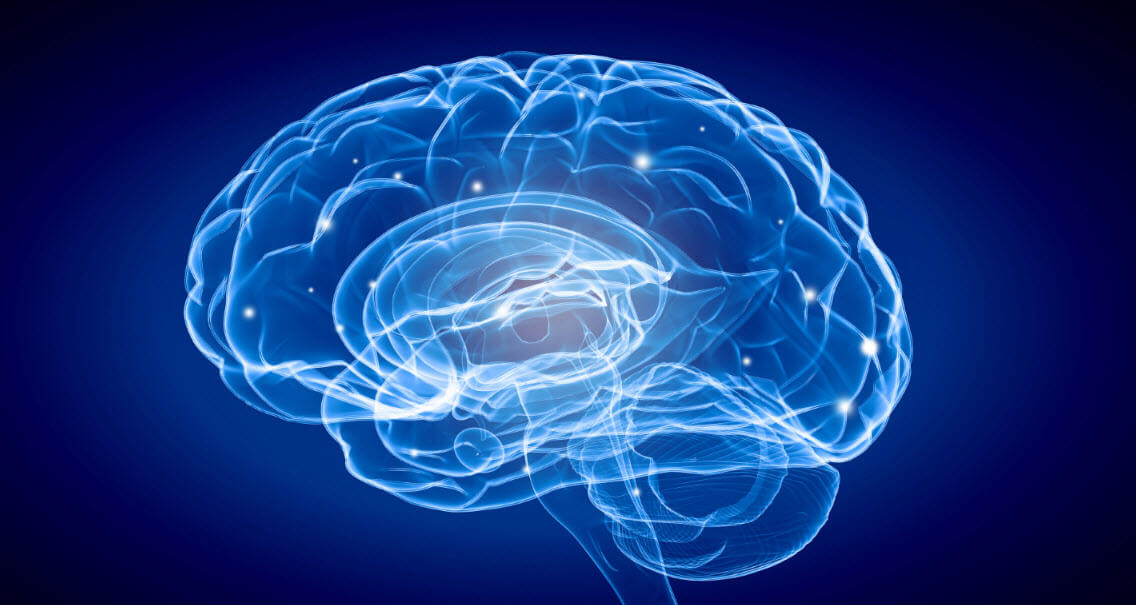 A French translation of this article can be seen here.
This article was updated February 2023.